Published by Theofania Natasya Rukma, S.Psi from Blubridge Center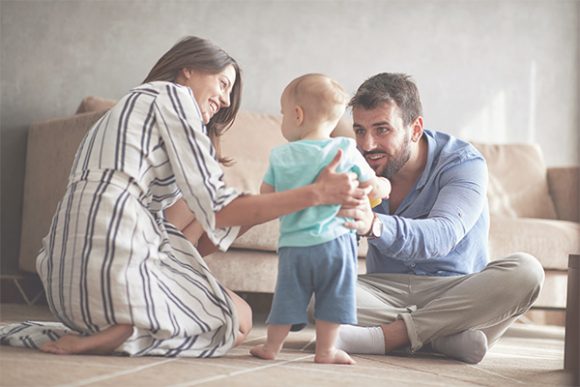 Parenting is a tough challenge for most married couples. How is it not? There is no school for parenting. All must be studied independently, doing trial and error to find which way is most effective. It is not surprising, if getting angry, threatening, and punishing are considered to be the most effective ways to make children obey. However, is it an appropriate and good parenting technique for child development? Take a look at the description below.
One approach in parenting is positive parenting, which is a parenting approach that is sensitive to the individual needs of children, and overcomes the challenges that arise in child development with empathy and respect. The principles in doing positive parenting are as follows.
1. Provide a safe and attractive environment
Children need a safe environment for them to explore, experiment and play. A safe environment can prevent children from getting into accidents or getting hurt.
2. Provide a positive learning environment
The positive environment here is an environment that responds responsively to the child, in a child-initiated interaction (e.g, asking for help). Parents need to be receptive when children try to communicate with parents.
3. Be assertive discipline
Coercive teaching is not effective in raising children. Preferably, parents teach behavior to children by: (1) determining basic rules in a specific situation; (2) discussing these rules with children; (3) giving clear, calm, and age-appropriate instructions; (4) giving logical and appropriate consequences; (5) quiet time (asking children to sit near parents to calm down); (6) time-out (taking children away to an empty area, no play), and; (7) planned ignoring (paying no attention to certain behaviors).
4. Have realistic expectations
Parents need to reflect on what expectations they have for their children, and are those expectations realistic for children to meet? Research shows that parents who have a tendency to abuse their children, tend to have unrealistic expectations of their children's abilities. Therefore, parents need to explore the motor, cognitive, language, socio-emotional development of their children. In this way, parents can determine whether their expectations for their children are realistic enough.
5. Take care of yourself
Maintaining mental health and parental self-esteem is also an important principle in positive parenting. This includes personal self-care, well-being, and communication skills with partners. Realize that a parent's emotional state can influence how he or she raises a child and the child's own behavior. Find your coping strategies when you are in a negative situation, such as sad, angry, anxious, or stressed.
The most important thing in parenting is the balance between flexibility and cohesion. Flexibility, is about how much parents can show leadership, and negotiation in the rules that are made. Meanwhile, cohesion is the emotional bonding between family members. Unbalanced levels of cohesion and flexibility (either too low, or too high), are associated with problems in family functioning.
One example that illustrates the unbalanced levels of cohesion and flexibility is : one mother always gives rules that are one-way, never discusses about it with her child (low flexibility), and she also rarely communicates with her child, because for her, it is not important to have quality time with kids (low cohesion).
Another example is one father does not have time to provide time for his child, because his job requires him to go out of the house until late night (low cohesion). When he was at home, he was too tired, so he always obeyed all his child's wishes, and he never prohibits his child (high flexibility).
It is normal to make mistakes in parenting. The most important thing is the willingness to continue learning, open to suggestions and criticism, and the willingness to be better.
Theofania Natasya Rukma S.Psi
BluBridge Center
References :
Olson, D. (2011). FACES IV and the circumplex model: Validation study. Journal of marital and family therapy, 37(1), 64-80.
Sanders, M. R. (1999). Triple P-Positive Parenting Program: Towards an Empirically Validated Multilevel Parenting and Family Support Strategy for the Prevention of Behavior and Emotional Problems in Children. Clinical Child and Family Psychology Review, 2(2), 71–90. doi:10.1023/a:1021843613840
Parenting, Positive parenting, parenting principles, tips in parenting, how to raise a kid, raising child, being a parent
Toddler 18 Months - 24 Months / 18 Bulan - 24 Bulan (Batita) / Parenting / Pola Asuh / Family / Keluarga / Tips in parenting