So that riding a motorbike with your little one remains safe and comfortable
Published by Mezia Mujahidah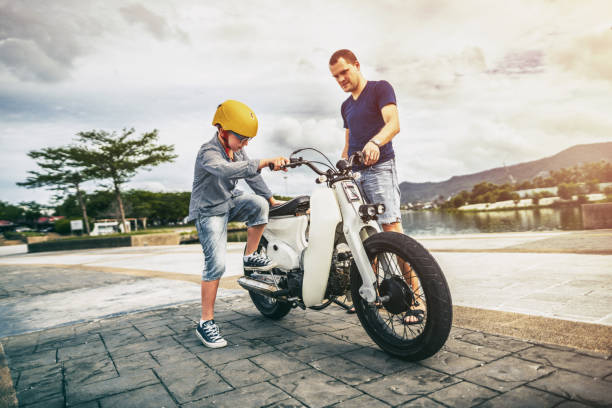 So that riding a motorbike with your little one remains safe and comfortable
Motorcycles are one of the most common modes of transportation owned by most people today. Apart from being agile because it can be used optimally in the midst of traffic jams, motorbikes are sometimes also the choice for driving long distances because they can save expenses. At least every household has a motorbike, including for families who still have small children. For this reason, motorbikes have become one of the mainstays of transportation for some groups, including piggybacking small children.
When riding with children, especially riding a motorbike, of course there are many things that must be considered regarding safety and comfort together so that unwanted things don't happen along the way. As parents, it is very important to understand the dangers and risks that may occur during the trip. The danger that occurs can be from other road users such as public transportation, trucks, pedestrians or hazards from ourselves such as driving too fast on a motorbike or the movement of your little one which shows if he is uncomfortable. These things need to be considered by fathers and mothers so they know when to rest and continue their journey back with their little ones.
The main thing to pay attention to is make sure our children also use complete safety equipment according to their size, such as helmets, jackets, gloves, trousers and shoes. This safety equipment is important as a preventive and precautionary measure so that our children stay safe while driving. In addition, it is important for parents to be aware of their child's position when taking their child on a motorbike. Do not position children in front of the driver, besides being able to disturb the concentration of the driver, children are also susceptible to dust, pollution and vehicle fumes and are potentially more dangerous in the event of an accident. If placing the child on the back, make sure the child's feet can tread the motor's footstep. If not, another alternative is to invite someone else to sit behind and hold the child.
Another thing that must be considered is to make sure the child is ready to be hitched. If the child's age and posture are still too small and not ready to be taken on a motorbike, parents should switch to public transportation or cars. While driving, keep the speed of the motorbike and the distance between our vehicles and other road users' vehicles. Obey traffic signs to avoid dangerous things with other road users and don't brake our vehicles suddenly and suddenly. Always make sure the child's condition is in prime condition, if the child is tired and sleepy, rest for a while and then continue the journey again.
Try to manage the time and distance traveled when driving, don't travel too far by riding a motorbike with children. Use an alternative route when the main road is jammed so that the travel time is not too long, so that your little one still feels comfortable on the motorbike. Not only the comfort of the baby, as the driver or passenger behind, the comfort and safety of the father and mother is also a top priority. Finally, enjoy a safe and enjoyable journey with your beloved baby.
Mezia Dewi Pratiwi, S.Pd from the BehaviorPals Center
Bibliography
https://otomotif.kompas.com/read/2021/04/27/174100215/10-tips-aman-naik-motor-bonceng-anak-kecil?
https://oto.detik.com/tips-and-tricks-motor/d-4060497/tips-aman-membonceng-anak-dengan-motor
riding, motorbike, safe
Children 4 Years - 6 Years / 4 Tahun - 6 Tahun / Parenting / Pola Asuh / Family / Keluarga / So that riding a motorbike with your little one remains safe and comfortable