Bosen di Rumah Bareng Anak? Ajak Baca Buku Bareng Yuk Parents!
Published by Aurel Saragih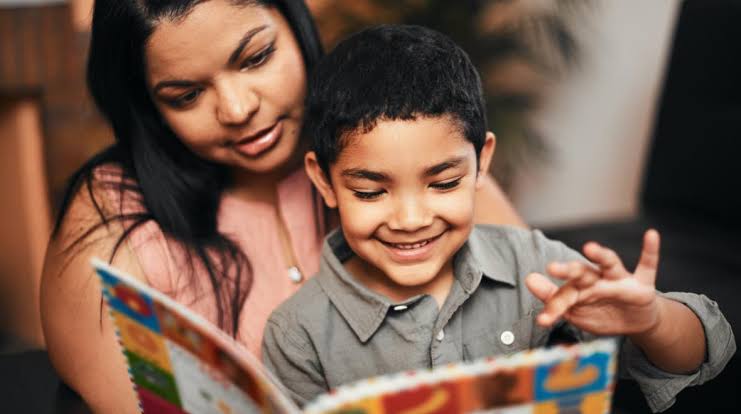 Parents, apa aja sih yang biasanya dilakukan bareng anak kalau ada waktu senggang di Weekend? Mungkin kebanyakan dari kita masih membolehkan anak-anak untuk main gadget lebih lama dari hari biasanya supaya anak ada hiburan. Namun tahukah parents kalau ada pilihan kegiatan lain yang dapat dilakukan bersama si kecil yaitu baca buku bersama! Apa aja sih manfaat dari membaca buku bareng si kecil?
Menambah bonding antara Parents dan anak
Membaca buku bersama bisa menambah bonding antara Parents dan anak. Saat membaca buku, seluruh perhatian anak akan terarah pada parents. Luangkan waktu kurang lebih 15 menit sehari untuk dapat memaksimalkan pembacaan cerita ke anak. Cerita yang dibacakan tidak harus panjang melainkan menarik dan membuat anak menjadi lebih bersemangat terutama ketika quality time bersama parents. Pasti hati rasanya senang sekali kan kalau anak kita bersemangat membaca buku bersama?
Meningkatkan rentang atensi pada anak
Kose (2019) pada penelitiannya menjelaskan bahwa membacakan buku cerita ke anak dalam bentuk narasi akan membantu anak melatih diri dalam memusatkan perhatiannya. Faktanya, anak juga lebih senang ketika dibacakan cerita narasi terutama saat mereka yang menjadi pemeran utama dalam cerita tersebut. Saat anak tertarik, perhatian mereka akan sepenuhnya masuk ke dalam cerita yang sedang dibacakan. Terpusatnya perhatian pada cerita ini akan melatih kemampuan anak dalam memvisualisasikan jalan cerita yang sedang dibacakan,
Pembiasaan pada situasi sosial yang ada
Parents, tahu nggak sih kalau anak belajar untuk beradaptasi dengan situasi sosial dari pembiasaan yang ia pelajari baik secara langsung di rumah atau dari cerita yang dibacakan di buku. Buku cerita selalu memuat peristiwa yang bisa dibayangkan anak ketika ia sedang berada diluar. Contohnya ketika dibacakan cerita mengenai anak kecil yang pergi ke dokter gigi, anak akan belajar mengenai apa saja yang mungkin akan ia rasakan ketika ke dokter gigi lewat pemeran utama di buku tersebut, apa saja yang akan dilakukan oleh dokter gigi, dan apa yang bisa ia lakukan jika merasa takut ke dokter gigi. Pelajaran mengenai hal-hal yang dapat ia lakukan ketika berada di lingkungan sosial ini menjadi salah satu manfaat yang didapatkan dari membaca cerita. Soo, jangan bosan untuk membacakan banyaknya jenis cerita ke anak ya parents!
Melatih anak untuk bercerita
Membacakan buku cerita tidak hanya melatih anak untuk memusatkan perhatiannya pada apa yang diceritakan melainkan juga caranya ketika bercerita. Anak juga akan belajar bahwa ada alur cerita yang harus disampaikan. Contohnya ada pembukaan cerita seperti "pada suatu hari…" kemudian isi cerita dan terakhir adalah penutup dari cerita tersebut. Kebiasaan dari mendengarkan cerita akan membuat anak memahami bagaimana caranya bercerita yang menarik dan diperhatikan oleh orang lain.
Melatih anak untuk membaca buku memang bukanlah hal yang mudah ya parents, tapi yakinlah bahwa anak selalu mau untuk belajar dan membuka dirinya pada hal baru yang bermanfaat.
References :
Bartan, M. (2020). The Use of Storytelling Methods by Teachers and Their Effects on Children's Understanding and Attention Span. Southeast Asia Early Childhood, 9(1), 75-84.
https://www.readmio.com/articles/would-you-like-to-become-a-great-story-teller-for-your-child
https://www.thechildrensbookreview.com/2020/07/5-reasons-personalized-books-should-be-a-part-of-your-home-library
Written by Sarah Aurelia Saragih, S.Psi of the BehaviorPals Centre.
Baca buku, quality time, bareng keluarga, orang tua
Children 4 Years - 6 Years / 4 Tahun - 6 Tahun / Parenting / Pola Asuh / Family / Keluarga / Bosen di Rumah Bareng Anak? Ajak Baca Buku Bareng Yuk Parents!