Anak saya berjalan jinjit. Apakah itu normal?
Published by Tiara Rahadian Putri, M.S., BCBA from Yayasan Sahabat Anak Istimewa Indonesia (YASAINDO)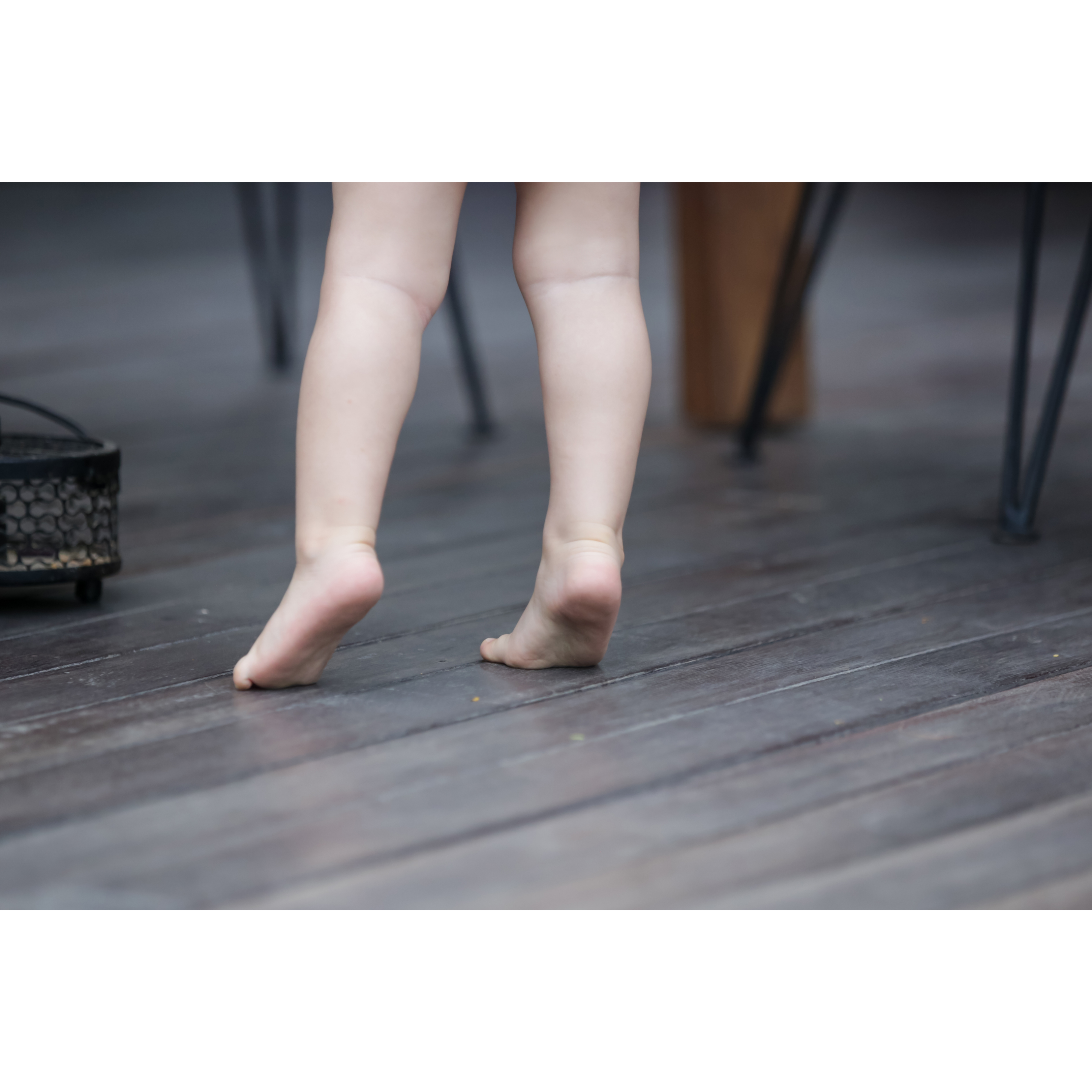 Toe walking atau berjalan jinjit adalah ketika seseorang berjalan dengan ujung jari kaki, dengan tumit tidak menyentuh lantai. Berjalan jinjit dapat menjadi bagian normal dari perkembangan dan anak-anak melakukannya saat mereka mulai belajar berjalan, khususnya sekitar 10 hingga 18 bulan. Seiring bertambahnya usia dan menjadi lebih fasih dalam berjalan dan berlari, kebanyakan anak-anak melampaui berjalan jinjit sekitar usia 2 atau 3 tahun. Namun, pada beberapa anak, berjalan jinjit dapat bertahan.
Apa yang menyebabkan anak berjalan jinjit?
Selain sebagai proses belajar berjalan bagi anak, berjalan jinjit mungkin merupakan gejala dari beberapa kondisi otot (misalnya, distrofi otot, palsi serebral), meskipun terkadang tidak diketahui penyebabnya (yaitu, kondisi ini disebut idiopathic toe walking). Idiopathic toe walking dapat disebut sebagai kebiasaan atau behavioral toe walking, artinya kondisi ini ditemui pada anak-anak yang telah dievaluasi oleh profesional medis dan tidak ditemukan penjelasan medis untuk perilaku ini. Artinya anak-anak ini sehat dan secara fisik dan secara keterampilan sudah bisa berjalan dengan kedua kakinya tanpa berjinjit.
Apa saja intervensi untuk berjalan jinjit?
Sampai saat ini, intervensi medis dan intervensi perilaku telah dievaluasi untuk mengatasi perilaku berjalan jinjit. Intervensi medis dapat mencakup serial casting dan tindakan pembedahan (Williams et al., 2020), sedangkan intervensi perilaku dapat mencakup penggunaan intervensi berbasis anteseden dan/atau berbasis konsekuensi (Marcus et al., 2010; Hodges, Wilder, & Ertel, 2018; Wilder dkk., 2020).
Apa yang perlu saya ketahui tentang berjalan jinjit sebagai orang tua?
• Berjalan jinjit merupakan bagian normal dari perkembangan anak sampai usia 2 atau 3 tahun.
• Jika berjalan jinjit terus berlanjut di atas usia 3 tahun, konsultasikan dengan profesional medis Anda untuk kemungkinan penyebab yang mendasari perilaku tersebut. Plus, dianjurkan oleh profesional medis untuk mengatasi isu berjalan jinjit pada fase awal munculnya perilaku ini sebelum bertahan lebih lanjut.
• Perilaku berjalan jinjit yang terus-menerus dan berkepanjangan dapat menyebabkan masalah fisik seperti kontraktur muskuloskeletal (yaitu, pengencangan otot, tendon, ligamen, atau kulit).
Sebagai orang tua dari anak autis, apa lagi yang harus saya ketahui?
• Meskipun pada umumnya berjalan jinjit dapat hilang dengan sendirinya pada sekitar usia 3 tahun, pada anak dengan autisme, data menunjukkan bahwa berjalan jinjit dapat teratasi pada usia 6 hingga 9 tahun; relatif lebih lama dibandingan dengan anak tanpa diagnosis ASD.
• Data menunjukkan bahwa anak-anak dengan autisme yang melakukan gerakan berjalan jinjit cenderung membutuhkan lebih banyak intervensi dibandingkan dengan anak-anak tanpa diagnosis gangguan perkembangan.
• Khusus untuk anak dengan autisme, isu ini direkomendasikan untuk dievaluasi oleh ahli ortopedi pediatrik yang mengenal atau familiar dengan diagnosis ASD.
Tiara Putri, MS., BCBA.
BehaviorPALS
Referensi:
Helms, A. S. (Ed.). (2020, May). Toe Walking. KidsHealth. Retrieved March 12, 2022, from https://kidshealth.org/en/parents/toe-walking.html
Hodges, A. C., Wilder, D. A., & Ertel, H. (2018). The use of a multiple schedule to decrease toe walking in a child with autism. Behavioral Interventions, 33(4), 440-447.
Leyden, J., Fung, L., & Frick, S. (2019). Autism and toe-walking: are they related? Trends and treatment patterns between 2005 and 2016. Journal of children's orthopaedics, 13(4), 340–345. https://doi.org/10.1302/1863-2548.13.180160
Marcus, A., Sinnott, B., Bradley, S., & Grey, I. (2010). Treatment of idiopathic toe-walking in children with autism using GaitSpot auditory speakers and simplified habit reversal. Research in Autism Spectrum Disorders, 4(2), 260-267.
Oxford Health NHS Foundation Trust. (n.d.). Toe walking in children (walking on tip toes). Podiatry Service. Retrieved March 12, 2022, from https://www.oxfordhealth.nhs.uk/podiatry/wp-content/uploads/2013/12/Toe-walking-in-children.pdf
Wilder, D. A., Ertel, H., Hodges, A. C., Thomas, R., & Luong, N. (2020). The use of auditory feedback and edible reinforcement to decrease toe walking among children with autism. Journal of Applied Behavior Analysis, 53(1), 554-562.
Williams, C. M., Gray, K., Davies, N., Barkocy, M., Fahey, M., Simmonds, J., Accardo, P., Eastwood, D., & Pacey, V. (2020). Exploring health professionals' understanding of evidence-based treatment for idiopathic toe walking. Child: care, health and development, 46(3), 310–319. https://doi.org/10.1111/cch.12745
toe walking, walking, children, toddler, autism, berjalan jinjit, balita, batita, autisme
Special Needs / Berkebutuhan Khusus / General Health / Kesehatan Umum / Health / Kesehatan / Anak saya berjalan jinjit. Apakah itu normal?