3 Great Benefits of Sensory Books for Babies
Published by Aurel Saragih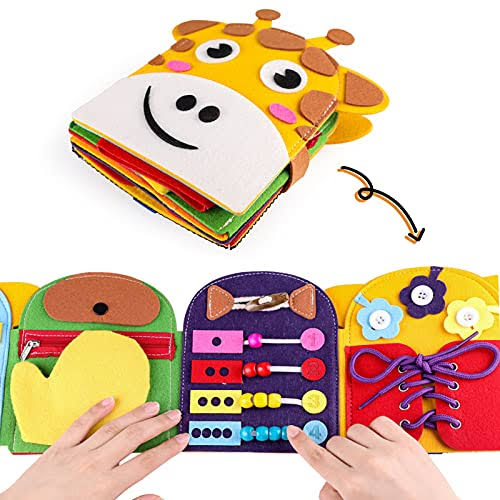 Parents, do you know that babies from the age of 6-18 months really need stimulation in the form of sensory stimulation to support their development? There are lots of media that can be used to make your little one develop better. Not only from parents' voices, but stimulation for sensory children can also use objects around them, you know! One example is with a sensory book!
Your little one must start the learning process through his five senses. Sensory books can be a medium used by parents to stimulate all their senses. Sensory books that have been sold online can be easily obtained by parents. Materials that are safe and comfortable for children to hold can make children tactilely stimulated and feel many tactile sensations at one time. Not just touching, the sensory book also has a storyline that really attracts your little one's attention to wanting to know more about the world. For example, there are sensory books about animals in the sea, livestock themes, numbers and letters, and many others. So while the child is holding the book, the child is also given the opportunity to hear the story being read by the parent.
But apart from that, what are the other benefits of sensory books for babies?
Train children to communicate.
Babies who learn through touch will feel different sensations when given a sensory book. For example, on a page with a triangular shape that uses velvet, he will give a response such as a smile or surprise. At the same time, parents can start a conversation like "it's a triangle, huh!" to see the child's response. The enthusiasm of parents when holding the sensory book also makes children more interested in seeing its contents and feeling other textures. When children want to look at their parents while reading, that's where communication and interaction are established.
Add vocabulary to children.
Children learn to associate textures held with words that can describe them. The more often parents provide sensory books and texture answers, the more vocabulary the child will have to refer to the textures he holds. For example, when a child holds a hard button, parents can immediately label it by saying "the button is hard, huh!"
Use fine motor skills while reading.
The sensory book will always be held by the child's hand when it is read. Children will use their fine motor skills to turn pages, hold pages that have the shape of doors to open and close, touch smooth and rough textures so that they will feel the difference with their fingers. Not only that, some sensory books also have simple fine motor activities such as pulling strings or sticking fruit shapes with Velcro which also train fine motor skills in children.
How is it, parents? It turns out that sensory books are not only for children to hold, but also become a very effective medium for helping children's learning processes. Make sure parents choose a sensory book that provides many pages for their little one to touch, observe and listen to. Congratulations on finding the right sensory book for your little one, parents!
Reference:
Grace, J. (2017). Sensory-being for sensory beings: creating enthralling sensory experiences. Routledge.
Why should you share "touch and feel" books. State Library Of Queensland. (n.d.). Retrieved February 14, 2023, from https://www.slq.qld.gov.au/blog/why-you-should-share-touch-and-feel-books
By : Sarah Aurelia Saragih, S.Psi from the BehaviorPALS Center
Sensory books, baby
Baby 6 Months - 18 Months / Bayi 6 - 18 Bulan / Cognitive Development / Tumbuh Kembang Kognitif / Education / Pendidikan / 3 Great Benefits of Sensory Books for Babies